Rome Libertine 2020 Snowboard Boot Review
Rome Libertine 2020 - 2010 Review by The Good Ride
The Rome Libertine has a pretty big footprint but everything else about it does a good job for those that want a mid flexing do everything kind of boot. It's been a long time since I got on this boot and it was good to see how much it evolved since then.
Ethics Statement: We don't get paid by the manufacturer to write these reviews.  We do make money from the "Where To Buy" links, but this is our best attempt at an honest and objective review from an average riders' perspective.
How This Review Happened:  We borrowed this for an extended demo and then returned it.
Days:
Size Tried: 
Riders: James (Size 9, 5'10" 185-195lbs)
Bindings: Union Strata, Rome Crux, Rome Black Label
Boards: Yes Greats,  Rome Agent, Rome Ravine
James' Foot Specs
Foot Size: 9 US
Foot Width: Almost E
Arch Length: Right 9.5 and Left 9
Calves (Top of boot): 17"
Calves (Bottom of boot): 12"
Sizing/Fit/Heel Hold: The Rome Libertine fit true to size with my 9 feet. My somewhat wide feet also fit well in these boots and I think they would work well for anyone that isn't super wide. The heel hold was fine for me but I have big ankles. If you run narrow in the heel/ankle you might need more than what the smaller J-Bars can offer or need boot fitting foom to get a tighter fit. It fit well without any real pressure points. There was some very light pressure on a forward flex from where the tongue starts after the toe but it went away after a few runs and never really hurt me.
Lacing/Adjustability: Traditional lace does an amazing job for those that like to dial out how your boot fits. It takes more work but to many, it could be worth it.
Flex & Flex Retention: The Rome Libertine has some tech to preserve the flex like a little articulation at the ankle and a rubber back stay but it seems to be focused more on comfort day 1. It's a hard balance between comfort and long term flex retention. We don't know for sure how well this will play out over 100 days but at least the material looks good.
Footprint: One of the only real complaints we have with the Rome Libertine was how it was considerably bigger (over an inch) than my Adidas boots and a good bit longer than the Vans Verse I had. I can only speak to size 9 so it could be different in larger sizes. All three boots fit my size 9 feet almost the same when it came to the length inside.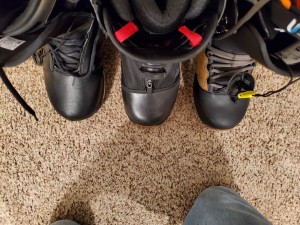 Response/Turn Initiation: So the medium bordering on medium/soft flex of the Rome Libertine had a medium response. I thought it might not be as responsive as it was but it powered all the boards easily edge to edge.
Shock Absorption: The D30 in the Rome Libertine seemed to make the thinner sole still pretty shock absorbent. It was a nice balance bettween having good board feel and being shock absorbent.
Traction: Vibram soles kill it for traction and the Rome Libertine is great for all temps and conditions.
Rome Libertine Past Reviews

The Rome Libertine is a great snowboard boot from Rome for someone who likes a mid flex. Rome makes pretty comfortable easy fitting boots that are similar to how Burton makes theirs except they don't have a very reduced footprint and pack out more. For 2014 The Rome Libertine went back to the roots with the traditional lace and dropped the speed lace that they called pureflex.

Ethics Statement: We don't get paid by the manufacturer to write these reviews.  No one is perfect and we do make money from the "Where To Buy" links below, but this is our best attempt at an honest and objective review from an average riders' perspective.

Flex:  Pretty middle ground but from my experience with Rome the flex softens up pretty quickly as you ride it more.

Comfort:   Rome's boots fit similar to the way Burton Boots fit and are very comfortable (sometimes on day 1).

Heel Hold:  Pretty mid-level heel hold that most have no issues with but if you are really particular about heel hold then go with a BOA boot.

Adjustability: It's traditional lace so with a little extra effort like with mountaineers knots you can have complete upper and lower adjustability.  You can even go tight on the bottom rung of the upper shell to loose at the top rung.

Flex Retention:  It has a hint of articulating cuff going on so it will last longer and flex easier than some Rome boots but I've found that Rome boots in general break down faster

Response:  Despite its almost soft flex it does have a lot of response

Traction: Not terrible and not excellent but just middle ground.  There is a mix of rubber with good traction and EVA foam but there is more rubber on the contact points than EVA.

Shock Absorption:  The Libertine also has a decent amount of sole cushioning.

Footprint: The 2013 Libertine is about 3/4 to 1 full size bigger. I haven't found a place that carries 2014 so I'll just keep the not reduced like the 2013 rating until I can find more proof.

On & Off Ease: It's nothing super easy each way but those that know and like traditional lace will be fine with how much time it takes to get them on and off.

The 2013 Rome Libertine brought back a better version of the EVA/Rubber combo that they had going in 2011.  The only real issues with Rome boots is they can pack out a bit and they don't have a reduced footprint. If you can live with that you will be pretty happy with the Libertine.

Not much has changed for 2012 but that's expected after the overhaul in 2011. The only major difference is the sole is now a one piece lighter foam sole which makes the boot lighter and a little more shock absorbent but the overall traction is less than the 2011 bindings.

For 2011 there have been some pretty solid upgrades that increase performance, heel hold and most importantly comfort.  Also for 2011 Rome added their version of speed lace and called it the Rome Libertine PureFlex Boot.
Rome Libertine Images

We try to get as many images of the Rome Libertine, but forgive us if they're not all there.
2020
2018
2017
2016
2014
2013
2012
2011
2010
a
Rome Company Information
Rome Libertine User Reviews